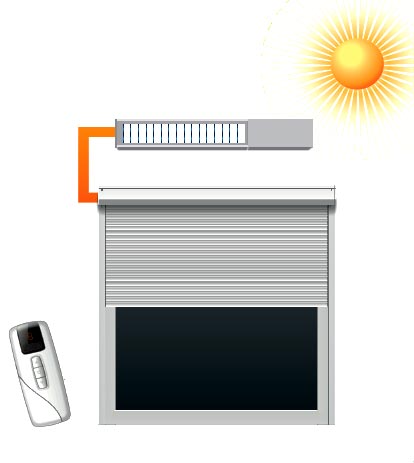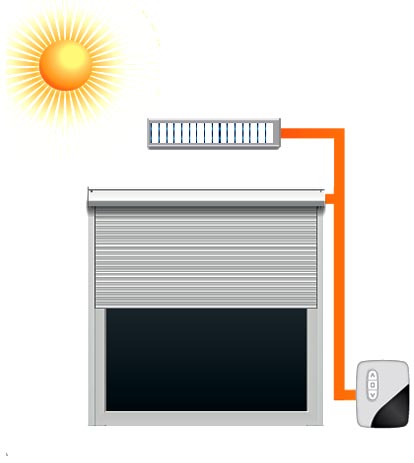 PLEASE NOTE: Each Solar panel must be fixed in a position where it will receive direct sunlight for at least one hour per day.
Ozroll Industries are a world leader in solar powered motorisation for Roller Shutters, Awnings and many more sun protection systems with the E-Solar range, which offers a convenient and cost effective stand alone system by utilising renewable energy provided by the sun.
The E-Solar Home system is designed to be used in conjunction with Ozroll's E-Port controller, allowing for the same simple installation you are familiar with. The solar panel comes with 2.5m of cable which is run through to the E-Port control on the inside of the application and the Solar Panel can be fixed to the exterior with the use of Ozrolls 'click & go' clips. The Solaris Home offers the added benefit of being able to charge the E-Port with an AC Adaptor, making this a hybrid Solar Roller Shutter.
E-Solar Basic is the original in solar power drive technology. Offering a practical mounting bracket with 5m of cable, this is an extremely cost effective Solar Roller Shutter which works by running the wire from the solar panel mounting point to the E-Port control on the inside of the application. Similar to the Solaris Home, the Solaris Basic also gives the option of charging the E-Port with an AC Adaptor.
The E-Solar Pro is the ultimate in Solar Roller Shutter technology; consisting of a sleek module which collects energy from the sun by accepting charge through a solar panel while storing the energy in batteries which are located in the command centre at opposite end of the module. Operational using an Ozroll E-Trans Remote, the Solaris offers a standalone motorised system without a need for mains power. The E-Solar Pro does not require any drilling on the inside of the application. Installation is as simple as fixing the shutter to the exterior of the application, then fixing the Solaris module with Ozroll's own 'click & go' clips which make not only the installation easy but also any servicing.